Details

Category: News
Published on Sunday, 09 October 2016 11:20
Written by Fatima Hussain
Hits: 514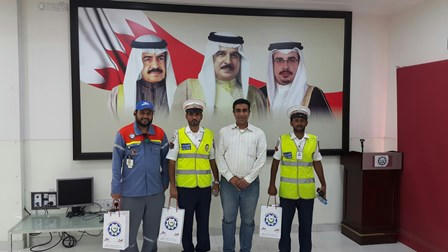 The Chairman and some Board Members of Alba Labour Union met with representatives of the General Directorate of Traffic, who were led by First Lieutenant Khalid Jassim Al-Mogahwi, the Head of Traffic, to discuss the traffic jams which workers get stuck in while driving to and from the company. The Board Members discussed all the traffic problems related to the project of developing Alba and Nuwaidrat Roundabouts by giving a brief description of the official work timings and the number of workers who drive to work and the buses provided for workers. The representatives of the Directorate of Traffic expressed their willingness to cooperate for the sake of ensuring a smooth traffic flow and giving priority to Alba workers during the peak hours. They also pointed out that the Directorate is doing its best to serve the users of this area by drawing up a plan consistent with the phases of the development project to ensure a smooth traffic flow.
Ali Binali, the Chairman of Alba Labour Union, extended his greetings and thanks to the officials of the General Directorate of Traffic presided by His Excellency, the Interior Minister, Lieutenant-General Shaikh Rashid bin Abdullah Al-Khalifa and Colonel Shaikh Abdulrahman bin Abdulwahab Al-Khalifa, who is acting General Director of the Directorate of Traffic, for their considerable efforts and continuous cooperation to serve the interest of the public as well as Alba workers.
Alba Labour union makes every effort by contacting and meeting all the concerned parties with the development project to arrive at solutions, which help reduce the traffic congestion suffered by workers.