Details

Category: News
Published on Monday, 17 October 2016 14:39
Written by Fatima Hussain
Hits: 363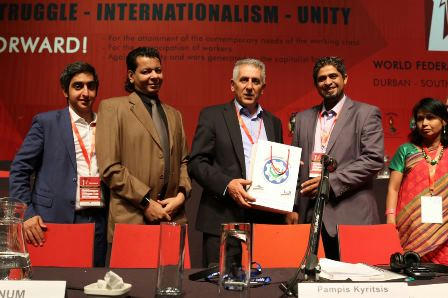 Good day dear comrades brothers and sisters, 
I am here unfortunately to tell you that our comrades workers are being either killed or insulted in different parts of the world. Killed in non sense wars all over the world, being forced to migrate in very difficult and dangerous conditions  and they are being killed by forcing them to work under unsafe fatal working conditions without any proper protection equipment. we continue to receive cascades of our loved workers and we are really worried about those workers regardless of their nationality, race, colour, religion or any other way they wants to believe that we are divided by. 
Furthermore workers are being insulted by being granted with unfair wedges, by not being covered medically, by not giving them  the proper education in order to have batter job opportunities and development.
Dear comrades., though the working forces are the heart of developing countries but there are lots of challenges that the working class is facing and lots of undescribable difficulties specially in our beloved Palestine as workers there are great example on how the aggressive  imperial forces are operating, as there and on daily basis workers are being humolated by these invading forces.
We as working class leaders if we did not watch the situations carefully  and follow the progress of escalating attacks on the workers rights all over the world and take the proper actions to stop these attacks, we will be seeing our selves losing more and more of our legitimate rights and here we should be inspired by the land that we are staying on today, South Africa the contrary and the people that gave us the hope, carriage and draw our path toward decent life even if the struggle took long.
Comrades, difficulties, wars,decrimination  and challenges faced by the working class are uncountable and from lots of aggressive parties,and I believe that the secret formula to face all of that is struggle, internationalism and unity under the umperala of WFTU which was and still is the protective  shield of the working class all over the world.
At the end I would to thank COASTO and WFTU for organising this conference which is a great opportunity to reunite and to show our support to each other and to show everyone that we will not keep quit when it comes to our rights
Viva COASTO viva WFTU and viva working class all over the world.
Thank you